Brian Sorce Account Executive @ dDaniel Advertising Agency - Full Service Marketing Firm
Thank you for visiting The Advertising Blog. My name is Brian Sorce and I am an account manager at dDaniel Advertising Agency in the Pittsburgh Region. I am a husband, a son, a brother and a friend. More importantly, I am a follower of Jesus Christ. I wrote this blog to communicate with those that are interested in marketing, advertising, leadership, finances, media, or any general information that can be helpful in business and life.
I live in Sewickley Pennsylvania with my wife Rachel. I grew up in Pittsburgh and I love living close to the city. My wife and I both are infatuated with the city and so much so that we got married in the city.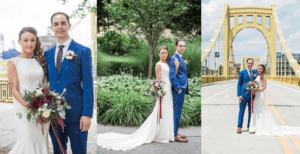 Industries of Experience: Automotive dealerships, Home Improvement Companies, and other SMB advertising and marketing.
Skills Experience:
-Direct mail
-National/local radio buying
-Cable/broadcast TV buying
-Storyboarding
-Scriptwriting
-TV advertising production-directing
-Digital marketing-PPC, Display, AdWords, SEO
-E-Commerce Web Development and Promotion
-Digital Analytics
-Market Analysis
-Budgeting
-Newspaper-Display, Inserts, and advertorials.
-Public Relations
-Surveys
Knowledgeable in advertising creative, copywriting, layout and graphic design oversight. Media negotiating and buying. Advertising goal setting, able to conduct and analyze return on investment reports. Experience with various media platforms such as, but not limited to, radio, TV, billboards, newspaper, internet and direct mail. Experience with digital analytics fundamentals and the google analytics platform. Knowledgeable in WordPress web development and creating an e-commerce website.