How Google Launches
On November 16, 2017, Google officially rolled out the new Google Small Business Community to Pittsburgh, PA. The event was held at the Google headquarters inside Bakery Square located in East Liberty Pennsylvania. The new Google Small Business Community was launched in only three major cities, Dallas, San Francisco and Pittsburgh (I was told that the Steel City had the best turnout). The event was scheduled for 6 p.m. to 8 p.m., I arrived early and received a free bag of Google marketing materials along with a seat in the second row. Upon arrival, everyone was given the opportunity to have their picture taken in front of a Google logo backdrop. By 6:15 p.m. the place was standing room only. There were free beverages, hors-d'oeuvre, and everyone was encouraged to sign up for the new Google Small Business Community.
The New Google Small Business Community
The Google Small Business Community is a new online platform where you can browse a forum, share your best tips, tell about your successes (or flops) and share experiences that have helped grow your business. Prior to their presentation, they encouraged us all to mingle and get to know each other. I met business coaches, donut shop owners, software developers and many different types of businesses. This was a great opportunity to learn about some of the common problems businesses are facing and what solutions they have tried. The new community gives businesses a place to post problems and similar business or anyone can respond with a possible solution or idea. Google's goal and hope is that these shared experiences and tips can help everyone develop their business. This was a great opportunity for Google to present the latest and greatest Google marketing tools for businesses.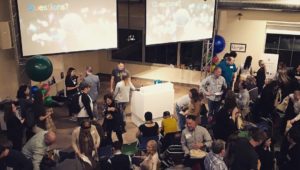 Google's Free Products for Small Businesses
After a 15-20 minute session of networking, Google started the presentation. They talked about some new or recently launched free products that they offer to small business. Here are four products that were discussed:
1. Google Posts
Google now allows small businesses to post content directly on their Google My Business Listing. This is the first time Google has allowed distribution of content directly on the search platform. Someone from the audience asked the question as to whether or not Google posts would help increase search engine optimization (SEO). The response was no.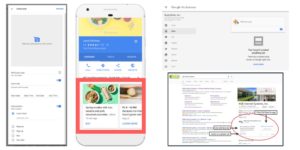 Do you need help dominating the Google marketing world? Do you know where your business ranks on Google and other search engines? To obtain a FREE copy of your online profile visit ddanieladvertising.briansorce.com/digitalmedia
2. Google Listing Text Messaging
Google has added an optional button to your Google My Business listing that gives customers the option to text you instead of calling your business. The customer will not know what actual number (you are assigned a fake number) they are texting and Google stated that they have measures in place to limit the number of spammers that could possibly take advantage of this. Google may monitor the messaging conversations to help counteract spammers. The number won't be shared publicly and you can opt out at any time.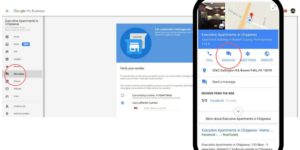 3. Questions and Answers
The number one question that people call and ask a business is "What are your hours?". Your Google listing obviously answers that, but there are plenty of other questions that people can ask your individual business. These questions can needlessly tie up the phones and cost your business money. The new FAQ's section brings a new way to engage with potential customers and provide them answers quickly and easily. This new feature allows you to add common questions and answers that people ask your business right inside your Google listing.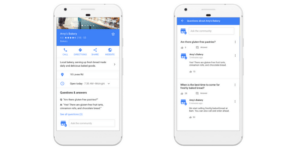 4. Google Website Builder
Google has launched (again) a website building tool. This powerful tool can build a website in 3 minutes. I was able to build  executive-apartments-in-chippewa.business.site in under 5 minutes. If you have a current website with Google, now you can replace it with the new website builder. They did state that if you have a current HTML, WordPress Site, etc. that you should keep using it.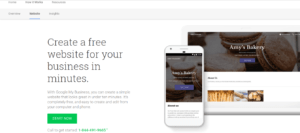 These free tools can add great value to your business and help you succeed at the Google marketing game. It is worth the time and effort to check out these free tools. If you don't have the time and you have a marketing person make sure that they are up to speed on all things Google. You can stay up-to-date with all things Google marketing by joining the Google Small Business Community or the Google Advertising Community.
Visit 6 Quick Tips for Online Presence Building to learn more about Google marketing and other online platforms
Do you need help using Google marketing? Contact Brian Sorce at 724-359-1045